This Progress Report includes information about programming, our venues, exhibits, accessibility, NASFiC site selection, how to check and confirm your membership level, and a brief Q&A about Winnipeg with our Co-Chair, Linda Ross-Mansfield. Are you a book lover? We feature an article about used book and music stores in Winnipeg. And more.
Download your copy of PR1 here: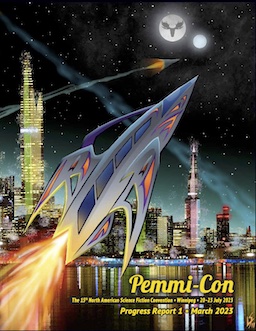 You can find all the progress reports on our Publications Page.
Membership Rate Increase Coming Soon
Do you have interested friends, who are thinking of coming to Pemmi-Con?
Do you have a Supporting membership and want to upgrade to Attending?
This is a great time to join or upgrade, while the Adult Attending membership rate is only CA$150 (that's 150 Canadian dollars). There are more details in PR1.
Ready to upgrade or join now? Our Registration site is standing by:

Murray Moore
Division Head, Communications