Winnipeg is centrally located in North America, and has always been an important junction and meeting point.
Travelling to Canada
If you are travelling to Canada from the United States, you need a valid passport. From other countries, you may need a visa or Electronic Travel Authorization. Please see the Government's Visit Canada page for details.
For more information and current advisories, check the travel advice from your government:
Some people aren't allowed to come to Canada. Notably this includes people convicted of driving while impaired. Please see the Government's Inadmissibility page for details. In some cases it may be possible to get a permit to enter Canada temporarily, or to clear your record.
Canada does not pay for hospital or medical services for visitors. Please make sure you have travel insurance that covers healthcare costs.
Air
Winnipeg Richardson International Airport (YWG) has passenger service to 28 airports, including all major Canadian cities.
If you are travelling from the US, there is direct service from Los Angeles (LAX), Las Vegas (LAS), and Minneapolis (MSP). However, the number of direct flights are limited. Minneapolis has two flights daily on an Airbus A319. You may find it easier to go via Canadian cities such as Toronto (YYZ), Calgary (YYC) or Vancouver (YVR).
The major airlines serving Winnipeg are Air Canada, Delta, and WestJet. They have extensive partnership agreements with other airlines. If you have a different preferred airline, you may be able to book a codeshare flight, or use your frequent flyer number when booking on an airline that connects to Winnipeg.
Local Airport Transportation
Winnipeg International Airport is 10 km from the RBC Convention Centre.
Taxi: A taxi ride takes 15 to 20 minutes and costs around CA$25. 
Bus: Winnipeg Transit has accessible buses providing service to the airport. Route 15 takes only about 20 minutes to get downtown. It has a stop 1 block from the Holiday Inn and a stop 3 blocks from the Delta. Route 20 has a more roundabout route and takes 36 minutes to get downtown. It has a stop 1 block from the Delta.
Fare is CA$3.15, youth and senior fare is CA$2.65, cash only, no change.
Winnipeg Transit offers discounted fares on bus passes, blocks of tickets, and the "peggo" stored value card. A bus pass or block of tickets is a good deal if you take 5 or more rides on the bus. The peggo card is best if you are a resident and register the card online. Winnipeg transit products are not available at the airport. The nearest location is the 7-Eleven at 1895 Wellington St., a 9 minute walk from the terminal.
Road
Winnipeg is on Highway 1, the Trans-Canada Highway, connecting to all major Canadian cities east and west.
From the south, US Interstate 29 connects to Manitoba Highway 7 at the border. Winnipeg is one hour north of the border.
Rail
Winnipeg Union Station is a major stop on the VIA Rail network, with connections as far as Vancouver to the west, Churchill to the north, and Halifax to the east.
Water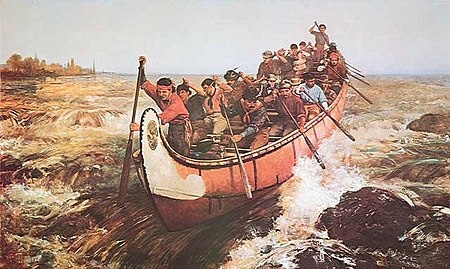 Starting from Montreal, take the easy 3,200 km paddle to the western end of Lake Superior, where you can stock up supplies at Grand Portage. Follow the Pigeon River upstream to its source, then follow the lake-and-river route to Rainy Lake. Be ready for the 16 portages, only one of which is more than 5 km. Take the Rainy River downstream to Lake of the Woods, then cross and and use the Winnipeg River downstream to Lake Winnipeg. Go to the southern end of the lake, then paddle 50 km up the Red River to Winnipeg. At The Forks, where Red and Assiniboine Rivers meet, portage the final 1 km to the RBC Convention Centre, where you can park your canoe for CA$25 per day.
More Information
For even more information about travelling to Winnipeg, see the Tourism Winnipeg Travel Information page.
When to Go
There will be an informal "Break the Ice" dinner on Wednesday, July 19. Pemmi-Con starts on Thursday, July 20 and runs through Sunday, July 23, 2023.
If you are travelling by air, there will be cheaper flights if you look over a wider range of dates. Consider staying a couple more days in Winnipeg. There are unique and excellent attractions that you don't want to miss.
Bon voyage!